Combine outputs from multiple plugins
One of the best parts fo the Plugin Manager is how it allows you to combine the outputs of multiple plugins seamlessly into your report template.
We just covered how to integrate your note template with the plugin output but what if you are dealing with the outputs of multiple plugins or want different plugin data to end up in different sections of your report?
Let's compare the default values for two plugins and how to customize them to match with a sample Issue template.
Dradis::Plugins::Qualys
Element template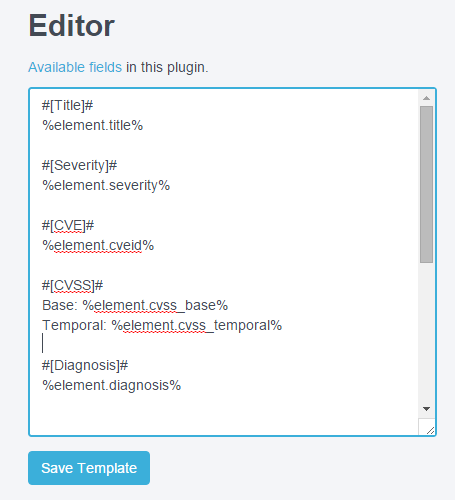 Dradis::Plugins::Nessus
Report Item template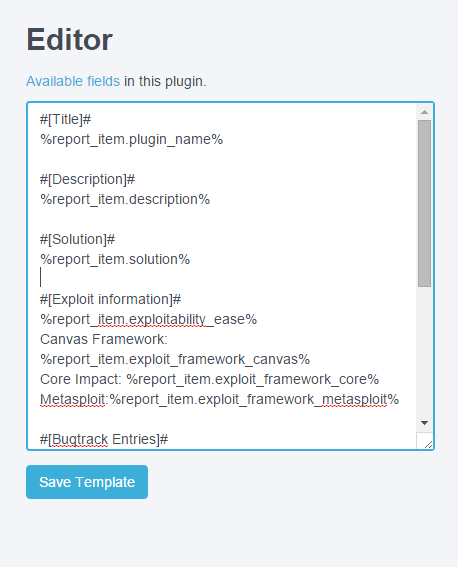 You can see right away that while they are similar, the default template fields and plugin manager fields for the Qualys and Nessus plugins are still very different.
Qualys defines fields for Title, Severity, CVE, CVSS, and Diagnosis. Nessus defines fields for Title, Description, Solution, Exploit Information, and Buqtrack Entries.
Now imagine your Issue template needs to define fields for Title, Severity, CVSS, Description, and Remediation as below:

    #[Title]#

    #[Severity]#

    #[CVSS]#

    #[Description]#

    #[Remediation]#

    
Copy/paste your Issue template into the Editor pane and rearrange the available plugin fields for each plugin to line up with the fields you need in your template.
Obviously, your configuration of fields will be different depending on what tools you are working with, what templates you are customizing, and what information you need to include in your report template.
Example results: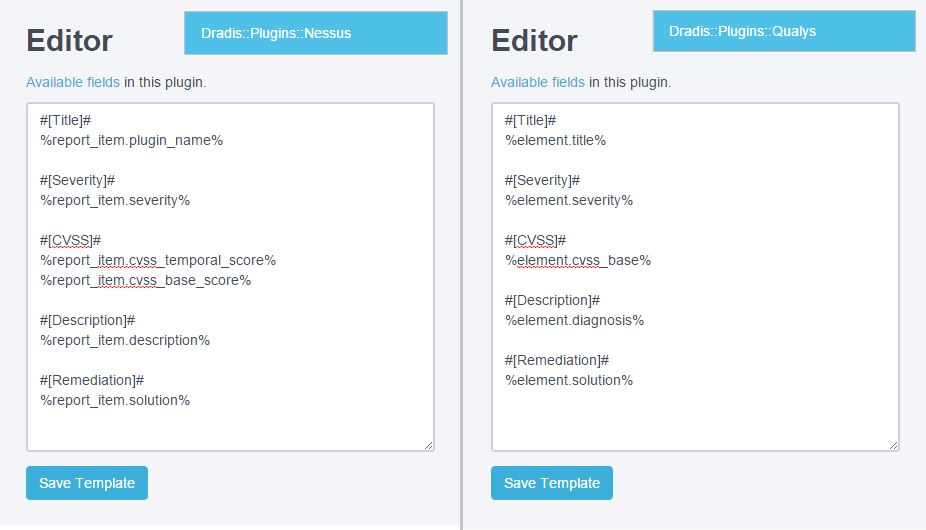 You'll notice that several of the fields didn't appear at all in the defaults. But, they are available for use, hidden within the plugin's Available Fields.
Mix and match the Available Fields for all of the tools you are using for your report making sure they match up with your Issue, Evidence, or Note template. Now, no matter how many tools you integrate into your report, the formatting will be exactly what you need.