Add an Issue to your IssueLibrary
To add a new issue to your IssueLibrary you can either add an existing issue from a project to your library or manually create a new entry.
Add an existing issue to the IssueLibrary
Choose an issue from one of your projects and add it to the IssueLibrary by clicking Send to.. in the Issue information header and selecting the IssueLibrary from the dropdown: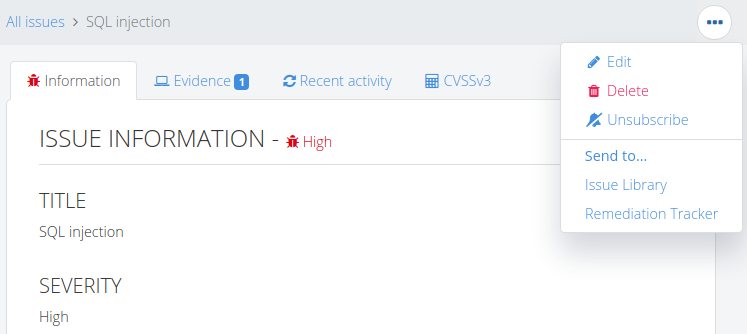 If you're an Administrator, you'll be taken to the editor page and can make any necessary changes to your new IssueLibrary entry before updating the entry and saving it to your IssueLibrary.
If you're an Author, your Issue will be automatically added to the library as-is.
Manually add a new issue
If you don't want to use an existing issue from one of your projects you can manually create a new entry in your IssueLibrary.
Log in as Administrator.
Navigate to Projects Dashboard > Add-ons > IssueLibrary.
Click Add New Entry in the right hand column.
manually enter in all the fields you'll need for your new issue. Don't forget to use your Issue template to make sure that you're defining all the necessary fields for your report template!